The "I'm getting tutored is a classic, as are most of the animal one's "Nicedeer gut, man!" comes to mind. But my ersonal favorite is still the crewcut wearing kid with the thick glasses trying to enter the Midvale School for the Gifted by pushing on a door that's marked "Pull."
Boring Cars...meh!
Date registered: Aug 2005
Vehicle: 81 280E, 84 500SEC, 87 560, 89 "300E", 91 500SL, 15 E350 4Matic Estate, 71 BMW 2002, +others
Location: Maui
Posts: 15,944
Mentioned: 0 Post(s)
Quoted: 16 Post(s)
(Thread Starter)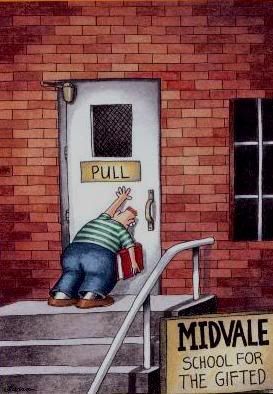 ---
~BANNED~
Date registered: Jan 2005
Vehicle: 1992 W126 300 SE
Location: Head in the clouds
Posts: 11,045
Mentioned: 0 Post(s)
Quoted: 2 Post(s)
Does anyone remember the cartoon with a large sinister looking moth with swastikas on it's wings, standing behind a rock, smoking a spliff with the caption 'A butterfly from the wrong side of the meadow'? I'm pretty sure it was Larson but I can't find it anywhere.
BenzWorld Elite
Date registered: Apr 2006
Vehicle: A red Vimana
Location: the pale blue dot
Posts: 19,563
Mentioned: 1 Post(s)
Quoted: 1118 Post(s)
oooh them flash backs , just say NO to drugs .
Currently Active Users Viewing This Thread: 1

(0 members and 1 guests)