BenzWorld Elite
Date registered: Nov 2005
Location: Southern California
Posts: 4,164
Mentioned: 0 Post(s)
Quoted: 0 Post(s)
RE: Hummer mass retaliation?
---
Quote:
Syracuse315 - 1/11/2006 8:39 PM
Quote:
asianml - 1/11/2006 9:27 PM

I like the H1 only. The rest can just burn in hell.



Why do I have to go over to that Hummer forum. They'll all be talking about their stories of why they had to buy a Hummer to compensate for something else.
The H1 still has some military style in it..The H2 and H3 are just gigantic square SUVs
yea. h1's are awesome. You can like run through anything. all other hummers suck.
---
My cars:
BLACK
1996 S500 (W140) - Sold
BURGUNDY
1989 560 SEL (W126) - Sold
____________________________________________

Always Remembered RIP
Date registered: Dec 2005
Vehicle: 220SEb coupe & 500SL
Location: Derbyshire, England.
Posts: 393
Mentioned: 0 Post(s)
Quoted: 0 Post(s)
RE: Hummer mass retaliation?
---
I love the thread where they're arguing the H3 is not a 'real' hummer and not as good as the H2 off-road. Yet hey all seem to be basing their arguments on what the magazines are saying, not personnel experiences.
---
- Jason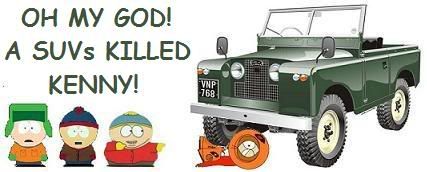 '61 Mercedes 220SEb coupe
'64 Land Rover IIa
'83 Mercedes 500SL
Currently Active Users Viewing This Thread: 1

(0 members and 1 guests)