BenzWorld Junior Member
Date registered: Jan 2010
Vehicle: 06-MB-CLS500
Posts: 7
Mentioned: 0 Post(s)
Quoted: 0 Post(s)
(Thread Starter)
Our 20 yr. old son and his appreciation for his totaled E320
---
This is just a segment of an email my son sent today...really hits home with me. We are so glad he was driving such a safe car!

Loving my new ride, ha I'm incredibly protective of it, one of the pictures i attached is how i park at school when i can, out of reach of everyone! The ladies love it. When im driving, older men look at me with a look in their eyes like "damn i wish i was that age rockin that whip (which translates to car)" and the ladies are like "damn i wanna ride in that car". I think im in love with it, the wreck turned out to be a blessing in disguise, in the fact that i got an awesome new car that's newer, with less miles, and straight AWESOME. I mean the obvious downside is that i unfortunately caused your insurance rates to go up, which this summer i would like the amount that they increased per month so i can pay you back and take responsibility for my actions. I thank God that i was driving a Mercedes that day and not a honda, oh how that could have turned out much differently. I am now firmly forever a Mercedes man, and will accept nothing else. Especially after that, i just don't feel same in anything else, unless it's an actual real live army tank, then i might feel safe outside of a Mercedes.
BenzWorld Member
Date registered: Jan 2009
Vehicle: 2005 Mercedes CLK320
Location: Northern New Jersey
Posts: 149
Mentioned: 0 Post(s)
Quoted: 0 Post(s)
Wow glad he's ok and was a Mercedes, what MY E320? And what Mercedes model did he get next?

Was it a serious accident?
---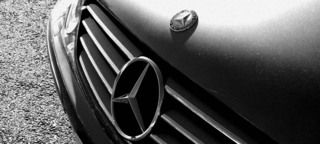 Got benz?
BenzWorld Junior Member
Date registered: Jan 2010
Vehicle: 06-MB-CLS500
Posts: 7
Mentioned: 0 Post(s)
Quoted: 0 Post(s)
(Thread Starter)
Thank you! He is now driving an older version of the same car you have posted, a clk 320. He loves it!
Currently Active Users Viewing This Thread: 1

(0 members and 1 guests)