BenzWorld Junior Member
Date registered: Sep 2012
Posts: 14
Mentioned: 0 Post(s)
Quoted: 0 Post(s)
(Thread Starter)
First MB, and new to the forum, 03 E500, 60k Miles. So far awesome, minus the..
---
whats up guys, new to the forum here, but not new to forums by any means.
this is my first MB, converted after some old G-pa totaled my audi and smashed it into a telephone pole
Was looking intensely for months for new A4, A6, or A5 coupe, when I stumbled upon the E class. Quite affordable, and just an all around great car.
Not an entry level C class, but not a huge bus of an S class, just right for what I use it for. A daily commute.
I read a ton about the vehicle, and knew I DID NOT WANT AIRMATIC.
But I could not help myself, and got exactly what I wanted. An E500 with that GD airmatic.
Needless to say, 6 weeks into ownership, I had my first run in with that oh so splendid system. And now she is in the shop for a right front strut.
But I still love the car.
First day I did 8k hids, tint, and the black rims and logos. Tal light tint to come, and thats where she lies now, until she is out of the shop. Then more is in store
To end my rant, ill leave you with some pics -
03 E500, 60k miles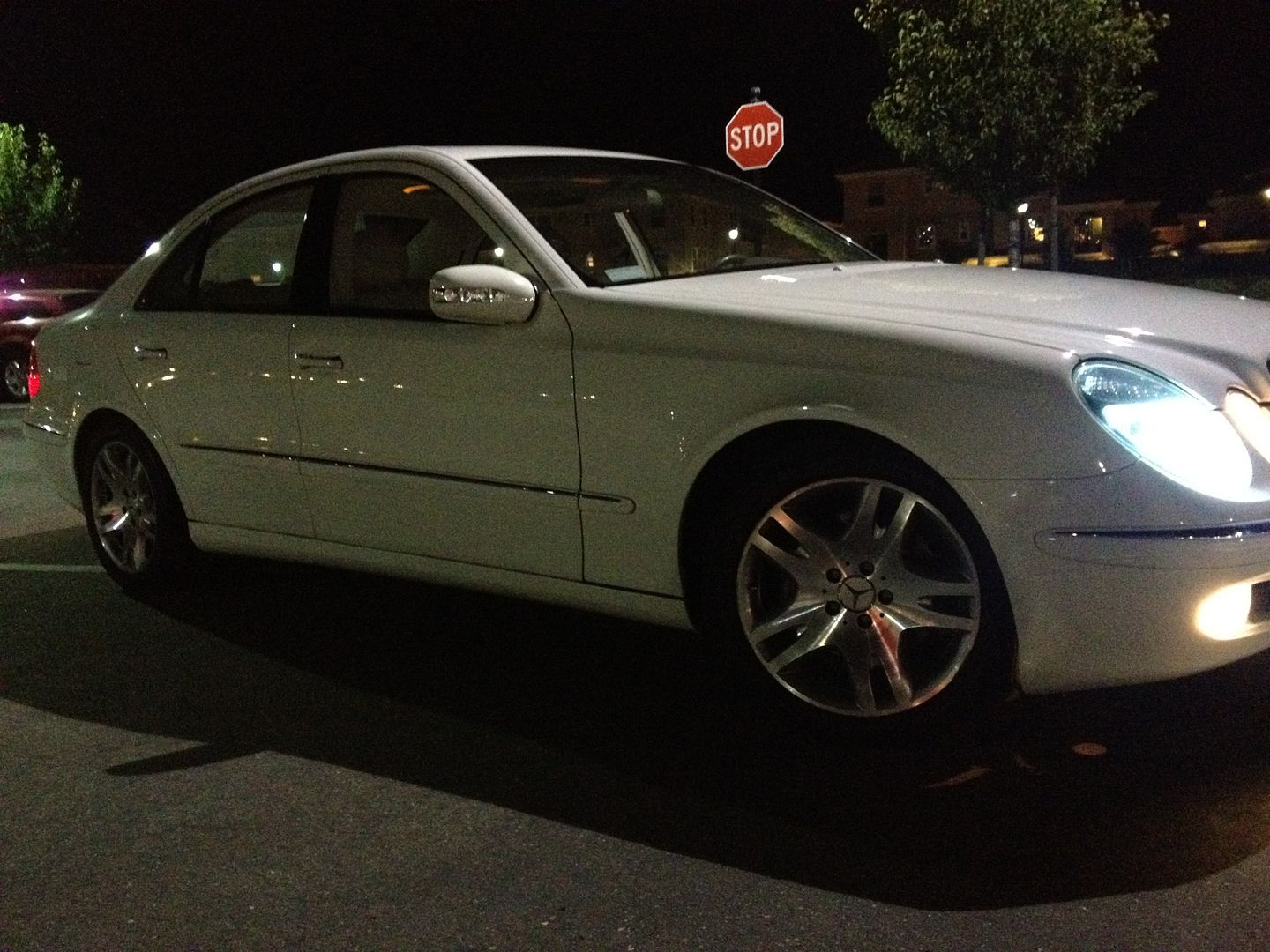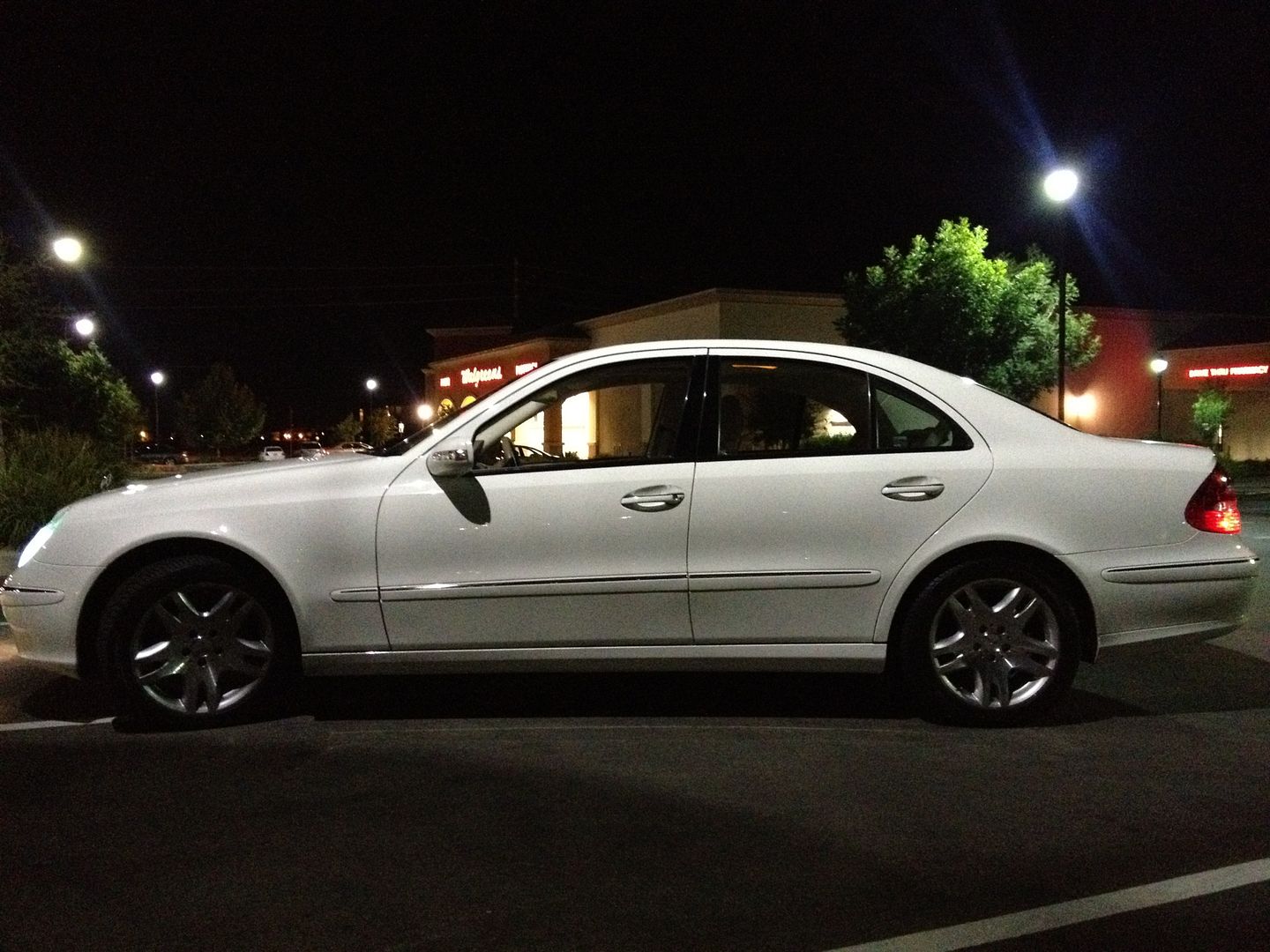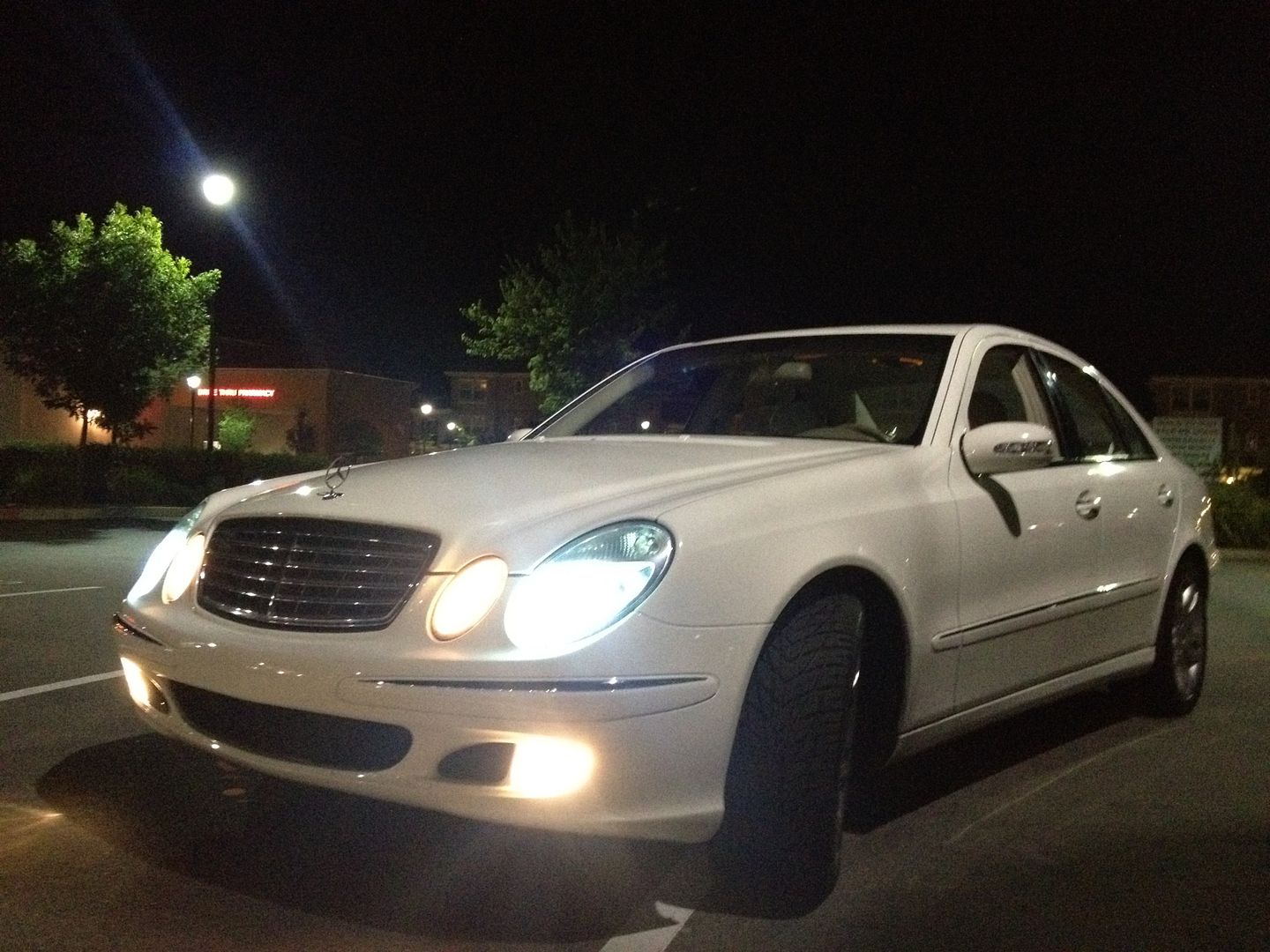 To -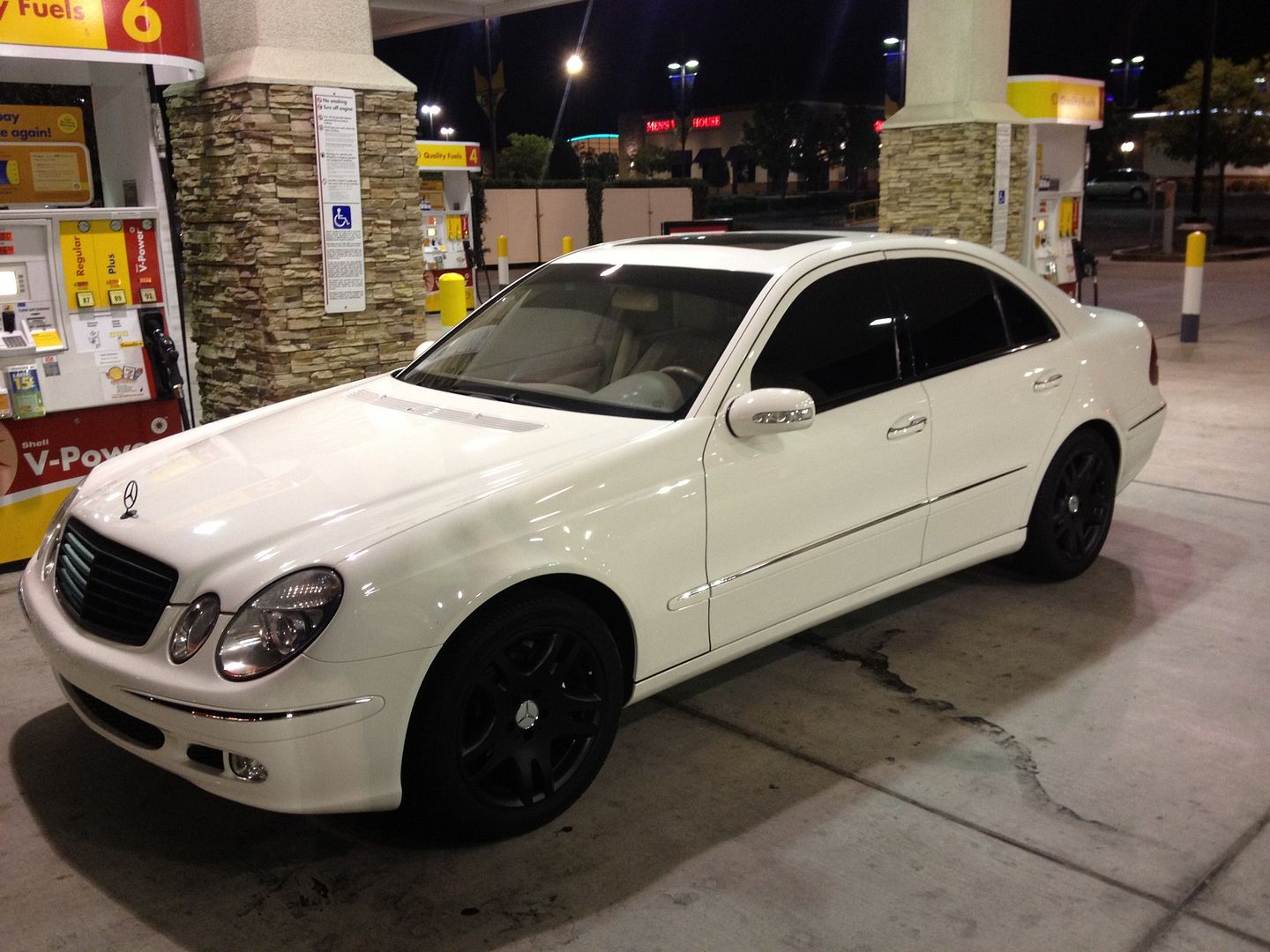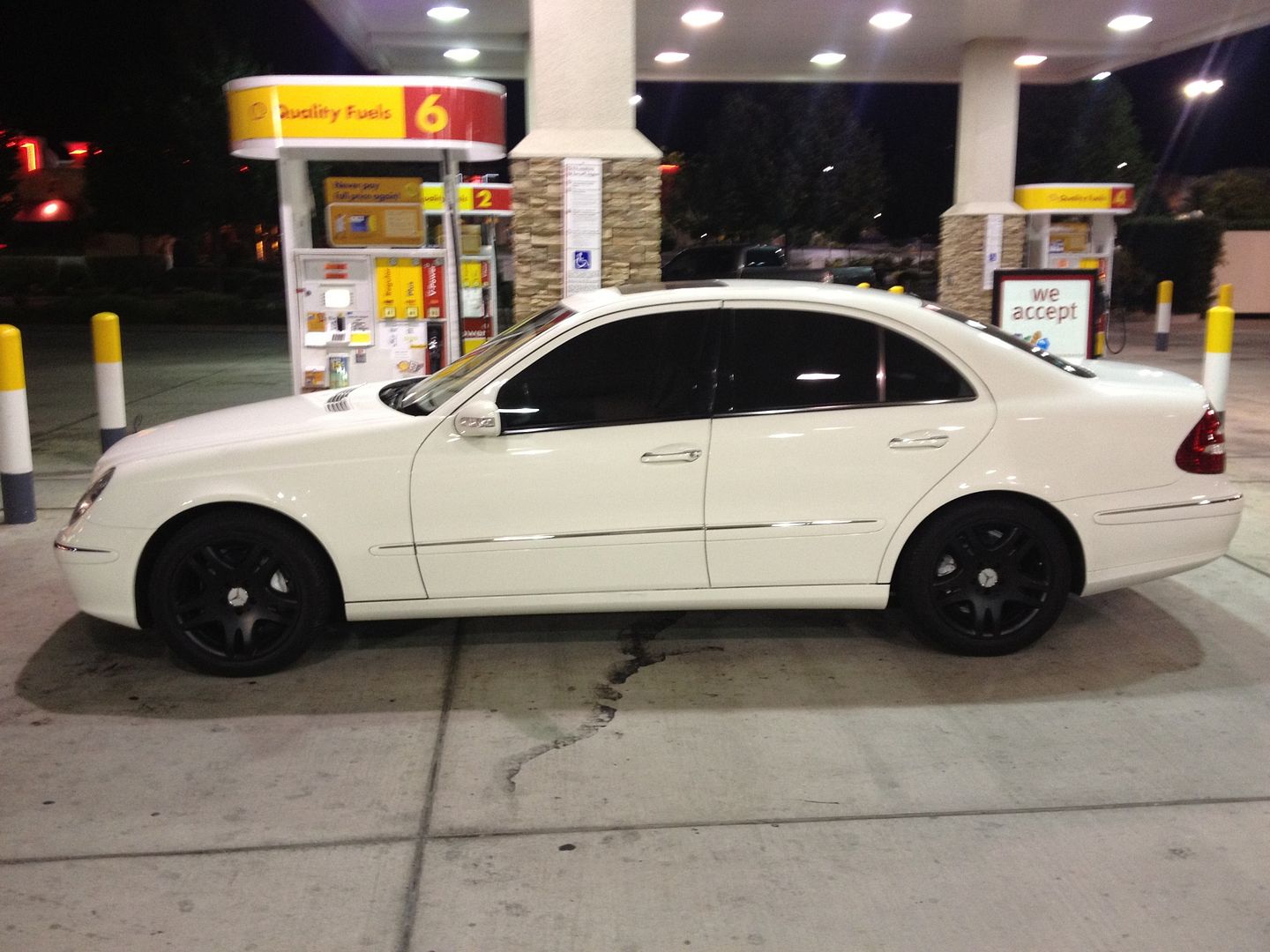 Outstanding Contributor
Date registered: May 2007
Vehicle: Zotye Auto 1.5T T600 2016
Location: The wild west of the Far East
Posts: 52,072
Mentioned: 3 Post(s)
Quoted: 283 Post(s)
Welcome to Benzworld
---
ERIC.
___________________________________________
"I am enclosing two tickets to the first night of my new play; bring a friend,
if you have one
."
- George Bernard Shaw to Winston Churchill.
"Cannot possibly attend first night, will attend second ...
if there is one
."
- Winston Churchill, in response.
BenzWorld Extremist
Date registered: Feb 2012
Vehicle: 2007 Mercedes-Benz C230, 2007 Chevy Equinox, 2003 Saab 9-3 2.0t, 1996 Chevy Tahoe, 2000 Ranger R83
Location: Elizabethtown, Kentucky
Posts: 862
Mentioned: 0 Post(s)
Quoted: 0 Post(s)
Welcome to the forum.
Like the original wheels better, but that's just my opinion. If you like them better then that's what matters.
BenzWorld Member
Date registered: Jul 2012
Vehicle: 1988 300E, 1999 S320
Location: Hillsdale, NJ
Posts: 138
Mentioned: 0 Post(s)
Quoted: 0 Post(s)
Welcome!
---
"Go ahead, make my day"
1988 300E 138k
Color: 877 - petrol blue green metallic, Interior: 275 - mushroom leather
Currently Active Users Viewing This Thread: 1

(0 members and 1 guests)