BenzWorld Newbie
Date registered: Nov 2007
Posts: 2
Mentioned: 0 Post(s)
Quoted: 0 Post(s)
(Thread Starter)
the danger of buying used wheels online * A MUST READ*
---
So I am driving along the road and I hear a very odd grinding noise. I pulled over and 2 of my spokes on my Kineses F110 wheel are cracked all the way through the spokes! I was amazed as I thought these were bullet proof strong wheels! So I have the car flat bedded away to a near by shop. The tire guy comes back to me and says that they have been welded up recently! I just bought these a month ago from a forum member online that told me they were "just re-painted because of some minor scratches." I am pretty pissed at this point for not only being f*cked over for buying welded up wheels but this could have killed myself or others on the road!!! Imagine if I was driving the car hard and it busted completely!
You can see the welds on the back side were the cracks are if you look closely. Come to find out these wheels were bought from a
major wheel company online
, welded up, painted over, and re-sold!
You can see the spokes have been welded up and painted over: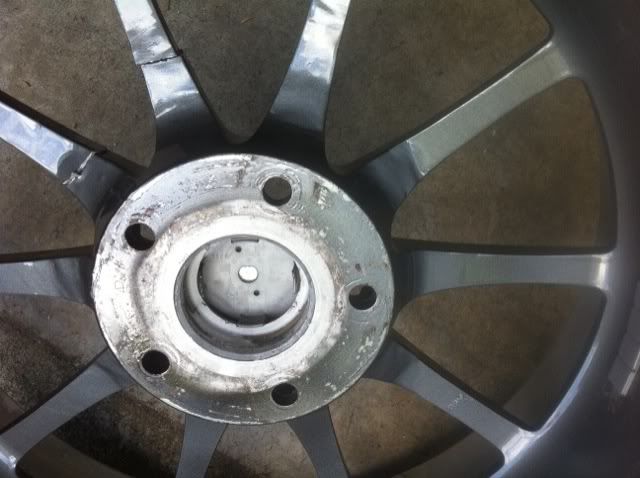 Let me know what you guys think....
BenzWorld Member
Date registered: Sep 2008
Vehicle: 2012 GLK350W4, 2006 E350, 1968 250SL
Location: Twin Cities, MN
Posts: 244
Mentioned: 0 Post(s)
Quoted: 1 Post(s)
I think Porsche engineers and the Porsche design department turn out some of the best product in the world and I don't think you can find anything aftermarket that's as good (looking or as functional) ... whether it's used after market or new. Why mess with Porsche perfection?

It's a shame some people try to sell this stuff... but such is the world.
Lifetime Premium Member
Thanks for letting us know. I have owned 2 Porsche 911s in the past and agree with panzer82 about the quality thereof. I don't know anything about Kineses F110 wheels but I must say they are nice looking. Get some OEM wheels and enjoy your ride!
---
Mercedes Benz - Das beste oder nichts!
BenzWorld Elite
Date registered: May 2005
Vehicle: '07 GL320CDI
Location: Albuquerque
Posts: 5,070
Mentioned: 0 Post(s)
Quoted: 2 Post(s)
There are very few aftermarket wheels that are better quality than OE wheels--if they were they would cost more.

Another warning about buying wheels "online" is that if they are shipped to you via FedEx they WILL arrive damaged.
---
Kent Christensen
Albuquerque
'07 GL320CDI
BenzWorld Newbie
Date registered: Nov 2007
Posts: 2
Mentioned: 0 Post(s)
Quoted: 0 Post(s)
(Thread Starter)
The issue here is not so much myself getting ripped off. It is the fact that this is a major company that sells a lot of wheels to Mercedes guys on this forum. I want to get the word out to prevent anyone else being scammed and/or worse with a possible death from a wheel coming off at speed. I was about to take my car to the Texas Mile event (200+ mph). Luckily I didnt go as I dont think I would have made the trip home.
BenzWorld Elite
Date registered: Nov 2009
Vehicle: 1984 190D 2.2
Location: Silver Spring, MD
Posts: 2,458
Mentioned: 0 Post(s)
Quoted: 0 Post(s)
It's a good thing that didn't happen at high speed.

What company did you buy them from?
BenzWorld Elite
Date registered: Jul 2005
Location: Long Island
Posts: 3,703
Mentioned: 4 Post(s)
Quoted: 277 Post(s)
There are more and more "remanufactured" wheel companies popping up. Look at ebay and read the fine print on many auctions and you can see this is becoming a big issue. The disreputable companies only care about the cosmetics and don't pay as much attention to the integrity of the wheel they are repairing.
---
'89 300E
'93 400E
'93 500E
'00 E320
'73 Alfa GTV
'77 308GTB
BenzWorld Elite
Date registered: Aug 2007
Vehicle: C320 4matic
Location: Charlotte, NC
Posts: 1,743
Mentioned: 0 Post(s)
Quoted: 0 Post(s)
I'm sorry to hear this but glad your ok.
I had a similar instance with aftermarket rims. Found out that the shop installed them was using the wrong size bolts when my tires were being realigned. At that point the garage tech showed me that my rim locking bolts were the correct fitment and taking on a beating. Almost had a rim pop off if this was unchecked for a longer period of time. Scary stuff!
---
BenzWorld Elite
Date registered: Jan 2010
Vehicle: 99 E430, 01 E430 Sport, 00 SL500
Location: LA, CA
Posts: 3,266
Mentioned: 0 Post(s)
Quoted: 2 Post(s)
The real danger is
1. Buying "used" wheels online/offline.
2. Putting on rims/tires with sizes that are different from the car maker's specifications.
BenzWorld Member
Date registered: Mar 2011
Vehicle: 2013 SL550, 2011 E550 4-Matic, 2010 S550, 2010 BMW X3
Location: Near Myrtle Beach, SC
Posts: 57
Mentioned: 0 Post(s)
Quoted: 0 Post(s)
I think the problem here is that these particular rims had at one time in their life been powder coated for a custom color. This heated the rims and destroyed the original heat treating and strength. The rims subsequently failed (cracked) and were "repaired" by a less than capable/credible/responsible wheel and tire dealer. That is, they were welded on and re-coated--adding even more internal damage to the structural integrity.
The rims were then sold by the dealer that "fixed" them to an individual. They apparently broke again and were sold to the poster above without disclosure. The company that repaired them is not taking full responsibility, the guy that sold them has no money to refund for the purchase and dgreen78 is not only out the $$$$$ but could have been killed.
I remember the same thing happening a few years back with an aluminum scuba tank that someone had powder coated or plated. It blew up and killed someone.
A good lesson to be VERY careful when buying used parts and equipment---especially when they are critical safety components.
There's an interesting and rather detailed thread on this over at 6speedonline.com. Here's the link;
Kinesis F110 wheels cracked! A must see! - 6speedonline.com Forums
Currently Active Users Viewing This Thread: 1

(0 members and 1 guests)
Similar Threads
Topic
Author
Forum
Replies
Last Post
Buying wheels online

Mavrick77

R170 SLK-Class

13

05-08-2013

02:57 PM

Your Thoughts on Buying Wheels online...

Sg5845

R230 SL-Class

3

03-05-2010

02:57 PM

Buying parts online

MrBits

W126 S,SE,SEC,SEL,SD,SDL Class

2

05-15-2009

07:21 AM

European Cars - danger danger Will Robinson!

oztds

R170 SLK-Class

8

12-11-2007

02:03 PM

OT: buying parts online

Stevenpfaff

W123 E,CE,D,CD,TD,TE Class

17

09-01-2005

06:28 AM