BenzWorld Newbie
Date registered: Jun 2008
Posts: 3
Mentioned: 0 Post(s)
Quoted: 0 Post(s)
(Thread Starter)
Real AMG vs AMG package
---
Two parts to this question... firstly how can you tell apart a real AMG car vs a car of the same year with an AMG package?

Second, has anyone ever seen people trying to sell their used cars as an "AMG" even though it only has the AMG branding package?

I've been kinda playing with the idea of getting a used AMG car off craigslist and I have become suspicious of a few of the ads I see where the owner writes that their car is an AMG when I suspect its not (but I don't know how to tell for sure). In some cases its easy because the seller will say something like "2002 Mercedes Benz CL500 AMG for sale" (the CL500 is the non-AMG version), but in other cases where it is advertised as the AMG model (CL55), I wanted to see if I would be in fact getting a CL55 and not a rebadged CL500...
BenzWorld Junior Member
Date registered: Nov 2008
Vehicle: 1970 280se Cab
Location: Los Angeles
Posts: 17
Mentioned: 0 Post(s)
Quoted: 0 Post(s)
I would assume you could either have them meet you at a dealership and service could tell you or get the vin and ask them yourself.
BenzWorld Elite
Date registered: Sep 2005
Location: Ann Arbor, Michigan
Posts: 11,243
Mentioned: 0 Post(s)
Quoted: 1 Post(s)
Take a look under the hood and look at the engine. If it has the signature plaque, it's an AMG. Look at the brakes, exhaust, interior, etc. If you find a car you're interested in, say like a CL55, you could also go to eBay Motors and look up ads for real CL55s and CL500s and look at the pictures from the ads and compare them to the vehicle you're looking at to determine if it's real or not.
---
2002 Mercedes-Benz ML320 (sold)
2011 Chrysler Town & Country
2008 Toyota Camry Hybrid
2003 Yamaha V-Star 650 Classic
2002 Jaguar X-Type 2.5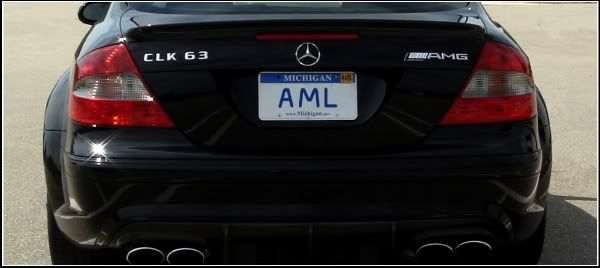 BenzWorld Elite
Date registered: Dec 2005
Vehicle: E320/E250 Bluetec R129 SL500 - $1300 car ........ Ford F350 6.7l
Location: V E G A S
Posts: 32,676
Mentioned: 10 Post(s)
Quoted: 1340 Post(s)
If you are shopping around for a car, subscribing to Carfax for few weeks might be good idea. With VIN it will tell you right away what model it is. Also Russian site would do that, but it is not working anymore. Anybody knows about other similar sites for options decoding and part numbers?
Also as Asian said, the engines look quite differently. Once you have a look under the hood you will know.
Sith Lord
Date registered: Sep 2009
Vehicle: 72 280SE 88 560SEC 92 E500 6.0 95 SL320 14 GLK350
Location: Beirut / Jeddah
Posts: 11,780
Mentioned: 3 Post(s)
Quoted: 217 Post(s)
Recent models may have AMG badging, though the bits and parts are only of aesthetic order.

Areas you can check are also the speedometer with an AMG logo.

Engine bay however cannot be mimicked. It's either an AMG or, stock.
Lifetime Premium Member
AMG's have only 2 numerals in their model number. eg E55

AMG's have hand built motors Quite often supercharged) badging on the upholstery dash gauges or steering wheels, heavier suspension and brakes as well as aero effect body panels.

It is not unusual to see phony AMG's.

I bought my car and it was badged as a CLK 430 AMG. The only thing AMG about the car was the AMG rims and some body panels. There is some controversy as whether the dealers added parts and badging to sell excess stock or whether it even came from the factory badged AMG.
BenzWorld Elite
Date registered: May 2005
Vehicle: '07 GL320CDI
Location: Albuquerque
Posts: 5,070
Mentioned: 0 Post(s)
Quoted: 2 Post(s)
Quote:
Anybody knows about other similar sites for options decoding and part numbers?
Sure, and it's the better solution in any event.
Simply subsribe to Mercedes' USA spare parts system (free) and run a "datacard."
http://epc.startekinfo.com
---
Kent Christensen
Albuquerque
'07 GL320CDI
BenzWorld Junior Member
Date registered: Oct 2010
Vehicle: CLK 320
Location: Houston,TX
Posts: 31
Mentioned: 0 Post(s)
Quoted: 0 Post(s)
AMG badging rules
---
Man this is a great subject, I read on another Thread and I Quote

" if you bought front and rear spoilers from AMG NA they would allow you to buy and install an AMG badge (later changed to /////AMG). The question that should be answered is "since AMG NA determined that an owner needed to have 2 exterior items in order for them to buy and display an AMG badge, does this make the car an original AMG?"

Some people state that this only applies to pre-merger cars

( IDK ) I believe that the AMG parts have to be installed by the factory.
not after market.
BenzWorld Elite
Date registered: May 2003
Vehicle: 2012 Focus SE
Location: Ormond Beach, FL
Posts: 7,704
Mentioned: 1 Post(s)
Quoted: 70 Post(s)
Well, Claudia Schiffer has some non-factory-installed parts too, but...
---
Felicita e un bicchiere di vino con un panino.
BenzWorld Elite
Date registered: Aug 2002
Vehicle: '85 2.3-16 '99 C280 '11 GLK350
Location: Scottsdale, Arizona, USA
Posts: 4,805
Mentioned: 0 Post(s)
Quoted: 0 Post(s)
Keep in mind that in the pre-merger days, AMG licensed and authorized independent sites around the world to sell and install their tuning products. When AMG was an independent tuner, the badging rules differed from what they are today, as a wholly owned unit of Daimler.
Currently Active Users Viewing This Thread: 1

(0 members and 1 guests)