BenzWorld Newbie
Date registered: May 2009
Vehicle: 1978 300 D
Posts: 1
Mentioned: 0 Post(s)
Quoted: 0 Post(s)
(Thread Starter)
New to the Benz World w/ '78 300D
---
I just bought a '78 300 D and plan to run it on Waste Vegetable Oil like the previous owner had. I am getting brake work done on it as we speak because the brakes lost pressure and were unresponsive twice this weekend, almost leading to my demise. Also, getting my mechanic (Village Motor Werks in Raleigh, NC) to put a new Emergency Brake in because the old was shot and to repair the vacuum hose because the car doesn't shut off on its own and the locks don't work. If anybody has any advice or comments or whatever please let me know. I've ordered a Chilton and a Bentley manual and hope to swan dive head-first into the wonderful world of Mercedes Benz. I already miss the car after only driving it for two days and can tell that this is the beginning of a long-term romantic relationship with her and I.
BenzWorld Elite
Date registered: Oct 2006
Vehicle: 1979 280CE
Location: Jacksonville, Florida
Posts: 6,116
Mentioned: 0 Post(s)
Quoted: 2 Post(s)
Please do not run the car on veggy oil. Use diesel if you want to have a good long lasting trouble free engine, the motor wasn't designed for veggy oil and will cause the engine to died long before it should.

Welcome to BW, and take my advice.
---
'79 280CE with 226,000 miles
'76 240D 4 speed with 190,000
'85 300D Turbo with 266,000 miles
GONE but not forgotten
'76 300D with 195,300 miles
"83 300D with 174,000 miles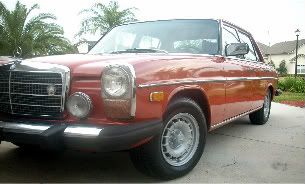 BenzWorld Elite
Date registered: Apr 2008
Vehicle: 1998 SLK230 199,xxx Miles
Posts: 7,675
Mentioned: 0 Post(s)
Quoted: 4 Post(s)
Currently Active Users Viewing This Thread: 1

(0 members and 1 guests)