BenzWorld Newbie
Date registered: Sep 2008
Posts: 2
Mentioned: 0 Post(s)
Quoted: 0 Post(s)
(Thread Starter)
Would you believe these MPG figures ???
---
BenzWorld Member
Date registered: Sep 2008
Location: Denmark
Posts: 62
Mentioned: 0 Post(s)
Quoted: 0 Post(s)
BenzWorld Elite
Date registered: Dec 2005
Vehicle: E320/E250 Bluetec R129 SL500 - $1300 car ........ Ford F350 6.7l
Location: V E G A S
Posts: 32,703
Mentioned: 10 Post(s)
Quoted: 1347 Post(s)
Doesn't say where it is coming from, but for single car you have ratings vary from 10 to over 30mpg.
So the truth has to be between.
Lifetime Premium Member
No.
---
S.


2013 Mercedes C250 Sport package PLUS steel gray metallic/black
2007 Lexus IS350 Sport package smoky granite mica/gray (+F-Sport, etc.)
2010 Honda Civic GX (CNG) white/tan
BenzWorld Elite
Actually I do believe it. Yes I do.
I know folks post here on the Board horrible gas mileage.
Then when you quiz them, or it's revealed
, you find out
they are neglecting their routine maintenance, they have a teenager's
leadfoot or are using inferior, off the shelf parts that change the OEM specs.
But mostly I see:
Drivers who neglect to maintain their cars
Drivers who believe themselves P/T NASCAR Drivers.
I am neither of them but on my 2000 C230K I am
getting, approximately 24-27MPG City and 30-34MPG Highway.
This 10% Ethanol mandate from Congress is horrible for gas mileage.
I have documented, and can testify, how the 10% Ethanol has taken off
my car and motorcycle 4-7 miles per gallon!
My Bike doesn't lie. My Fuel Receipts don't lie. My wallet doesn't lie.
So yes, I can see folks in USA getting horrible gas mileage
due to the two main factors above.
" Say it ain't so Sam? Say it ain't so..."
---
Charles
New York City, NY
Richmond County
United States of America
BenzWorld Junior Member
Date registered: Jun 2008
Vehicle: 2003 C230 Kompressor Sports Sedan !998 ML 320
Location: Minnesota
Posts: 35
Mentioned: 0 Post(s)
Quoted: 0 Post(s)
I just compleated a trip from minnesota to Colorado in my 2003 c230K driving on Minn hwy23 55mph ,Interstate 90, 75mph, US hwy 83 55mph and Interstate 80 75mph and my little c230k 6speed manual got 32.4 mpg on the computer and 33 when I figured it on paper I was very pleased
BenzWorld Elite
Date registered: Dec 2005
Vehicle: E320/E250 Bluetec R129 SL500 - $1300 car ........ Ford F350 6.7l
Location: V E G A S
Posts: 32,703
Mentioned: 10 Post(s)
Quoted: 1347 Post(s)
Quote:
my little c230k 6speed manual got 32.4 mpg on the computer
Should have bought 6-cylinder E class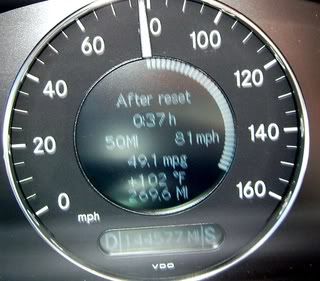 Currently Active Users Viewing This Thread: 1

(0 members and 1 guests)
Similar Threads
Topic
Author
Forum
Replies
Last Post
Figures

DALAHI

R170 SLK-Class

1

05-19-2008

08:09 PM

MPG Figures

dhaesler

W210 E50 AMG, E55 AMG

5

04-13-2007

06:31 PM

560 SEL was 15 mpg, now 18 mpg

dave850

W126 S,SE,SEC,SEL,SD,SDL Class

0

03-04-2006

11:17 AM

G & trailer 9.8 mpg, G, triler, car 11.9 mpg?

Kerr

G-Class

11

03-08-2005

11:45 AM

E300DT MPG figures

Guest (MBNZ)

W210 E-Class

3

06-26-2002

12:20 PM