BenzWorld Junior Member
Date registered: Sep 2008
Posts: 6
Mentioned: 0 Post(s)
Quoted: 0 Post(s)
(Thread Starter)
fuel gauge going crazy
---
well hey, i have a 1995 c180 default, nothing added to it, and recently the fuel gauge will suddenly drop to 0 and then go back to 100, and this keeps on repeating. Im not too sure what it is, i think it might be a fuse or something. Comment if you know anything that might help me
BenzWorld Elite
sounds like the sensor has a bad ground or something else in the circuit, like the fuse or gauge, maybe someone has a similar car with this issue. that may be a sign the sensor is on its way out.
---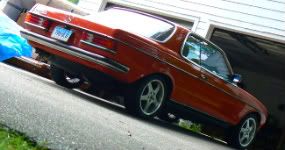 for sale: Car Domain 80 EURO 280CE M110.984 english red, white cloth interior 194k
daily driver: 93 toyota MR2, black 5spd non-turbo, may just have to remedy that
mopar: 62 chrysler newport 4DR white 361 V8, 36k miles

Lifetime Premium Member
You have a W202 C-Class and I would pose your question on that forum. But the 1st place I'd look is at the fuel level sending unit which might be the same thing vipercrazy is calling the sensor. Good Luck.
---
Mercedes Benz - Das beste oder nichts!
BenzWorld Junior Member
Date registered: Sep 2008
Posts: 6
Mentioned: 0 Post(s)
Quoted: 0 Post(s)
(Thread Starter)
by the way, where is the fuse for the guel gauge
BenzWorld Elite
Date registered: Mar 2005
Vehicle: '01-E320 & 02-ST2
Location: John 15:18-19
Posts: 31,634
Mentioned: 0 Post(s)
Quoted: 35 Post(s)
Don't bother with a fuse, that is not it. Fuses either work...or they don't, period.

MB usually uses similar designs in their sedans, so I"ll bet if you pull the sending unit and clean the contacts (for the variable part of the sender, not the plug where the harness connects) it will be okay. Again, if it is a similar design you can reference the DIY posted in the W210 forum.

Take care and anjoy the ride,
Greg
---
Socialism is a philosophy of failure, the creed of ignorance, and the gospel of envy; its inherent virtue is the equal sharing of misery. (Winston Churchill)

Currently Active Users Viewing This Thread: 1

(0 members and 1 guests)
Similar Threads
Topic
Author
Forum
Replies
Last Post
Crazy question about fuel gauge

edwardgwright

W126 S,SE,SEC,SEL,SD,SDL Class

2

06-18-2008

10:19 PM

CRAZY OIL PRESSURE GAUGE

lovemy'93-300CE

General Mercedes-Benz

1

03-17-2008

08:43 PM

Economy gauge driving me crazy

B71ZZZ

W124 E,CE,D,TD Class

9

02-21-2007

03:40 PM

THE ECONOMY GAUGE ACTING CRAZY...

PimpinBenzo

W126 S,SE,SEC,SEL,SD,SDL Class

7

02-20-2007

09:11 AM

Crazy Fuel gas needle gauge HELP

marcelo1967

R170 SLK-Class

6

05-19-2004

04:35 PM