BenzWorld Extremist
Date registered: Jul 2006
Location: Baltimore, MD
Posts: 1,027
Mentioned: 0 Post(s)
Quoted: 2 Post(s)
(Thread Starter)
when will MB step up and offer better warranties?
---
all these cheap brands like Hyundai, Kia, Chrysler & Jeep are offering 10 year - lifetime warranties, and 2-4x more expensive MB still only offers 4-5 yrs? or they are selling well so there's no reason to offer more huh.
---
Gone but not forgotten:
2003 Honda S2000
1999 BMW 540i sport
1995 BMW M3
BenzWorld Member
Date registered: Nov 2006
Vehicle: 06 c230, 07 lexus LS460L, black c63 amg
Location: Miami, FL
Posts: 227
Mentioned: 0 Post(s)
Quoted: 0 Post(s)
you answered ur own question when u said "cheap brands"....
my 2 cents
---
C63 ///AMG
06 c230 sport
07 lexus LS460L

CL grill,CL emblem,s class style taillights,c55 amg spoiler,Lorinser roof spoiler,AVUS AF-502 Forged Wheels Custom painted,bi-xenons with 8000k D2S bulbs,3000k fog lights,Brabus sport exhaust,Pioneer AVIC-Z2 30gb dvd HDD in dash navigation,H&R sport springs, clear side markers,Brabus door pins,carbon fiber lip,Hoen high performance rear license white bulbs,Boston acoustics full component system,JL audio 12" sub/250 watts amp,green filter
BenzWorld Elite
Date registered: Dec 2005
Vehicle: 222.132 & 221.122 & 213.050 & 906.633
Location: Europe
Posts: 10,342
Mentioned: 3 Post(s)
Quoted: 39 Post(s)
I don't know how it works in the US but here they offer 5 year warranty but you are supposed to use their service program which is extremely costly. A long warranty time clearly does not mean a high quality product, specifically if you have to pay a lot for it, in one or another from.
BenzWorld Member
Date registered: Jan 2007
Vehicle: '06 ML350, '93 Z32TT
Location: Los Angeles, CA
Posts: 147
Mentioned: 0 Post(s)
Quoted: 0 Post(s)
MB will go out of business if they offer long warranty with its current reliability
---
1993 300ZX TT
2008 ML350 4matic
BenzWorld Veteran
Date registered: Nov 2006
Vehicle: Oo == oO 98 E320
Location: Nashville, TN
Posts: 674
Mentioned: 0 Post(s)
Quoted: 0 Post(s)
When you read the warranty specifics on the brands mentioned you find the coverage is a very limited powertrain warranty. Few MB's or any other cars have trouble in the 1st 100k that would result in a claim of any real size of this nature.

Further, if your engine blew at 75k & 7 years & you had your service records most mfg's would at least chip in on repairs.
---
'87 300E: sold after 11years @ 230k & still on the road somewhere in rural Tennessee.

'94 C220 with 93k totalled 10/06 by hit & run broadsiding monster truck: not a scratch or bruise for me
BenzWorld Elite
Date registered: Apr 2004
Vehicle: E500Es
Location: The BlueGrass State
Posts: 29,579
Mentioned: 0 Post(s)
Quoted: 3 Post(s)
They know that many of their buyers trade their cars at the end of lease or after 5/60K miles and don't really want to deal with the secondary market.

If you want a long warranty that covers everything, there are plenty of aftermarket warranty companies that provide that service well past what Mercedes would provide even if they went to the 100K mile model. What you want warranty on is all the electrical/electronic stuff in the newer cars anyway. The odds of engine/tranny going bad in the first 100K is pretty slim unless you were a complete moron and never had your car serviced.
---
McBear
,
Kentucky
Being smart is knowing the difference, in a sticky situation between a well delivered anecdote and a well delivered antidote - bear.
BenzWorld Elite
Date registered: Apr 2005
Vehicle: 2002 CLK430
Location: Southern California
Posts: 1,681
Mentioned: 2 Post(s)
Quoted: 3 Post(s)
MB USA offers a 7 year/100,000 mile warrantee. It's good at any franchised MB dealership in der US of A. No idea what's offerred anywhere else.

As for sales, MB USA reported 19,589 new vehicles for June. That means the total for the first half of 2007 was 118,240 units. That's 2.9% better than the first half of last year. 2007 is the best first-half sales year in the history of MB USA. So yeah, they're swimmin' in it.

Now, where's my Black Series Press Car?
BenzWorld Elite
Date registered: Dec 2005
Vehicle: W211 E320 Bluetec R129 SL500 - $1300 car ........ Ford F350 6.7l
Location: Vegas MAN, Vegas
Posts: 32,523
Mentioned: 10 Post(s)
Quoted: 1289 Post(s)
Lot of hammers (not Hummers) manufacturers offer unconditional lifetime warranty.
Try to find on on big screen LCD.
BenzWorld Elite
Date registered: Oct 2006
Vehicle: 1979 280CE
Location: Jacksonville, Florida
Posts: 6,116
Mentioned: 0 Post(s)
Quoted: 2 Post(s)
The newer MB's are expensive to keep up because they are always having some kind of technical problem. My little 1979 280CE has a few problems but nothing like the new ones, mine almost never breaks down.
---
'79 280CE with 226,000 miles
'76 240D 4 speed with 190,000
'85 300D Turbo with 266,000 miles
GONE but not forgotten
'76 300D with 195,300 miles
"83 300D with 174,000 miles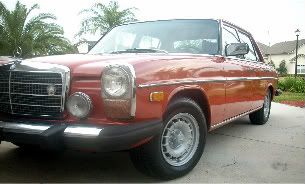 ~BANNED~
Date registered: May 2006
Vehicle: 97'C280
Location: Texas
Posts: 3,184
Mentioned: 0 Post(s)
Quoted: 0 Post(s)
I think it has to do with once it leaves Europe, they don't really want cover it too much. BUT, you can find good extended warranty companies out there that will help you keep your benz. one that comes to mind is
Warranty Direct
check them out, they cover a lot of major stuff like water pumps and flex discs, but stuff like ball joints and brake issues they won't cover because those parts are designed to wear out anyway. I saved at least $4,000.00 in repairs with them already.
Currently Active Users Viewing This Thread: 1

(0 members and 1 guests)