BenzWorld Newbie
Date registered: Jul 2007
Posts: 1
Mentioned: 0 Post(s)
Quoted: 0 Post(s)
(Thread Starter)
Dent Removal Advice Needed.
---
I'm no expert on cars, But I've damaged my friends Mercedes while re-arranging his garage and i've left three dents on the bonnet and I've offered to pay him back.
I've not been able to get pictures of the dents but this is a picture of his car and i've shown where they are on the bonnet. You have to look fairly closely to notice they are there. The two in the middle are just shallow depressions and i'm not too worried about those.
But there is one right on the slope that i'm concerned with because it's in an awkward position. Is it possible with the metal body of this model compared to modern caes to remove these dents with Paintless Dent Removal? I've read it is much cheaper and looks tidier than panel beating but I don't know whether it's going to be of use in this situation.
And what kind of cost am I looking at for all three dents?
Help would be really appreciated, cause I feel awful about it.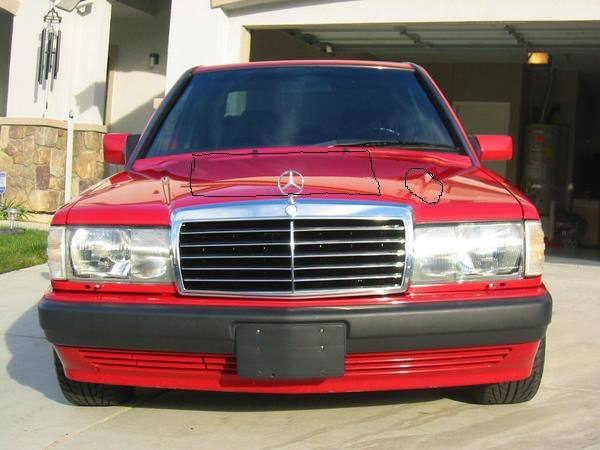 BenzWorld Elite
Date registered: Dec 2005
Vehicle: 222.132 & 221.122 & 213.050 & 906.633
Location: Europe
Posts: 10,350
Mentioned: 3 Post(s)
Quoted: 40 Post(s)
Cannot see how they look like but it could be that the one on the ackward position is the easier one, I assume you can access that place from behind while there may be some enforments elswhere that make it difficult to reach the dented area from behind.

If paint seems ok, I would definitely try paintless repair. You can maintain the original paint colour which would be difficult if painted, on a red car specifically. It either looks ok after painting or after a some time but not both.

I had a bad looking dent on the door by someone when the car was parked. Even the paint had scratches and I could not find the place after treatment. I would recommend my dent repair guy but you may not want to pay his airfare to your place. I think it was 50 euros for this one dent, should be $50 for you with the current rate (I know the rate is the other way around but your prices are normally so much lower on anything for cars).
Always Remembered RIP
Is that car in question the W201 190E car?

Some Benzes have an aluminum hood, which makes it a LOT harder for the paintless dent guy to straighten. I think (hope) the 190E has a metal hood.

It's good that you are stepping up to take the blame, but maybe you could call one of those places before you decide. They usually come out to your place where the car is, and they can do wonders, usually for $150 or less (last time I checked)

If it goes well, it'll avoid an insurance claim, and also, a repaint of the whole hood, with the attendant color matching problems that are always present...
---
Jim
<--- superschnelle 300 hp 10:1 ECE euro HV, Hochverdichtung = high compression (11/2011)
... Wie im Freien Fall. Nur horizontal.

"I swear to god, it's like I live in a trailer of common sense, and stare out the window at a tornado of stupidity."
>'='<
Currently Active Users Viewing This Thread: 1

(0 members and 1 guests)