BenzWorld Member
Date registered: May 2006
Location: Panama City, Panama
Posts: 161
Mentioned: 0 Post(s)
Quoted: 0 Post(s)
(Thread Starter)
Easy W202 front bumper removal*Sarcasm*
---
Ingredients:
1 part motorcycle
1 part motorcycle rider not paying attention to the STOP light
1 part mercedes W202
Directions:
Hit the Mercedes at 40KPH & shake vigorously
Do not enjoy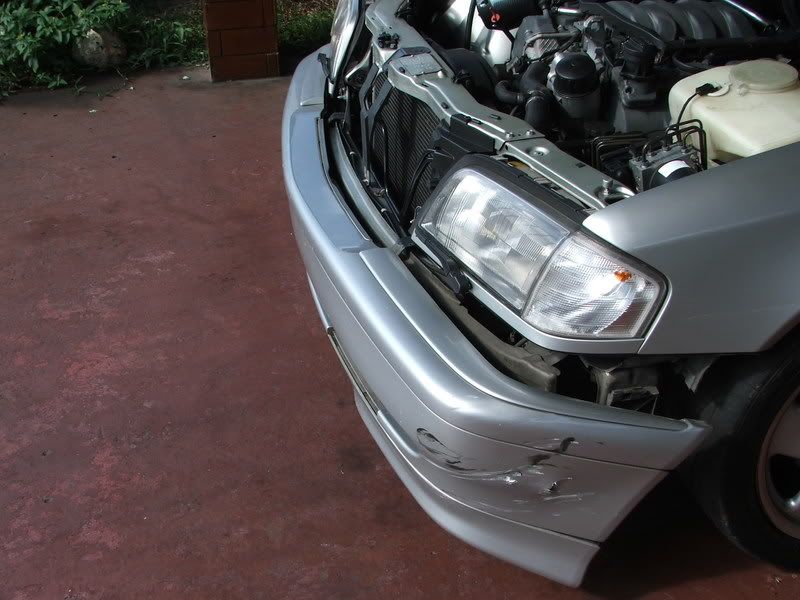 ---
Last edited by Espresso; 03-30-2007 at

03:04 PM

.
BenzWorld Elite
Date registered: Apr 2005
Vehicle: 2002 CLK430
Location: Southern California
Posts: 1,681
Mentioned: 2 Post(s)
Quoted: 3 Post(s)
Expresso, those are some four star photos. They are crisp, clear, and the subject has good lighting. It's the perfect angle too. What is it, sunrise or sunset? What kind of camera are you using?

Sorry to hear about your car. How long for the new bumper and paint?
BenzWorld Member
Date registered: May 2006
Location: Panama City, Panama
Posts: 161
Mentioned: 0 Post(s)
Quoted: 0 Post(s)
(Thread Starter)
Why thank you for the comments.
The pics were taken right before I posted. Right around 4PM CST. The camera is a FUJI FinePix S5100. The only gripe people have about this camera(when I searched before I got it) is that it does not have "image-stability(anti-shake)" & a fixed Zoom in video mode(which I do not like but for the price..oh well). I do not mind it at all. That feature is for shody picture takers. I have VERY shaky hands & never use a tri-pod & they come out like this.
I got it from QVC for like $250(after MIR). I absolutely love it.
Here is info on it
Digital Cameras - Fuji FinePix S5100 Digital Camera Review, Information, Specifications
As for the new bumper & paint. I have no idea. The Insurance company told me to get quotes. I got one & it was $3700. BUT, remember this is Panama. Genuine parts are about 4X more expensive here. It'll take the bumper atleast 2 months to get here regardless. So in the meantime(after the Insurance approves repairs & I order NEW parts) I am going to fix & use this bumper.
BenzWorld Extremist
Date registered: Sep 2003
Vehicle: '02ML320
Location: NY
Posts: 806
Mentioned: 0 Post(s)
Quoted: 0 Post(s)
so.. Is that a knock off c43?
Moderator
Quote:
Originally Posted by onesixthree
so.. Is that a knock off c43?
---
BenzWorld Elite
Date registered: Mar 2005
Vehicle: '01-E320 & 02-ST2
Location: John 15:18-19
Posts: 31,634
Mentioned: 0 Post(s)
Quoted: 35 Post(s)
My sympathies for your car.
Was the motorcyclist insured?
Was s/he injured?
Take care and enjoy the ride -- moreso after you get it fixed.
Greg
---
Socialism is a philosophy of failure, the creed of ignorance, and the gospel of envy; its inherent virtue is the equal sharing of misery. (Winston Churchill)

Currently Active Users Viewing This Thread: 1

(0 members and 1 guests)