BenzWorld Junior Member
Date registered: May 2006
Posts: 34
Mentioned: 0 Post(s)
Quoted: 0 Post(s)
(Thread Starter)
Tinting Windows on new Benz.... HELP
---
I just got a c280. I wanan tint the windows... but MBUSA told me that they 'dont recommend it'. Then i called my tinting guy, who tints rly good and tinted my other cars, and he says that some benzs scratch the tints. He told me that its a chance, some do and some dont.

But this is just plain silly because almost every benz i see is tinted. So how can all these benzs be tinted when tinters tell me that Benzs scratch the tints, and MBUSA tells me not to tint the car!

Any help?
BenzWorld Elite
Date registered: Dec 2005
Vehicle: W211 E320 Bluetec R129 SL500 - $1300 car ........ Ford F350 6l
Location: CA Bay Area
Posts: 31,537
Mentioned: 9 Post(s)
Quoted: 1070 Post(s)
I think you are confusing tinted glass with tinting plastic glued to it?
BenzWorld Senior Member
Date registered: May 2005
Vehicle: 05 A6 3.2Q, 07 A4 2.0T S-Line
Location: WA
Posts: 413
Mentioned: 0 Post(s)
Quoted: 0 Post(s)
You need to get the door seals covered with felt. Normally the doors are so tight that the seals will scratch the tint over time as you lower and raise your windows. You'll probably have to get the door panels pulled for access to the door seals though. Find a shop that tints a lot of Mercedes Benz's and they should know what they're doing. If you mention this to any other tint shop and they're not sure what they're talking about keep looking. I got quoted the usual $300 to get tints done but to pull the door panels and put the felt on was another $40/door.
BenzWorld Senior Member
Date registered: Mar 2006
Vehicle: 2000 E55 AMG
Location: San Rafael, CA
Posts: 577
Mentioned: 0 Post(s)
Quoted: 0 Post(s)
Most, if not all, MBs come with rubber molding in the door panel which is what will eventually scratch the tint film. Remedies include the installation of felt molding, sheepskin molding, etc.
---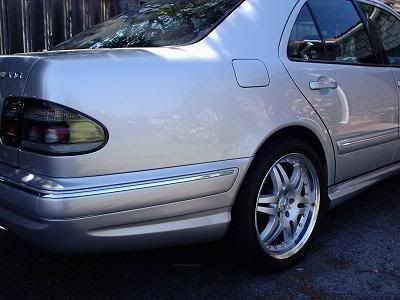 BenzWorld Junior Member
Date registered: May 2006
Posts: 34
Mentioned: 0 Post(s)
Quoted: 0 Post(s)
(Thread Starter)
will do, thanks guys. I live in NY. I found a place that will do it for $350 plus tax for 4 windows, windshield and back window.

Im gonna do it unless anyone can point me to another good shop.
Currently Active Users Viewing This Thread: 1

(0 members and 1 guests)