BenzWorld Junior Member
Date registered: Sep 2005
Posts: 5
Mentioned: 0 Post(s)
Quoted: 0 Post(s)
(Thread Starter)
88 300 SE Rear Humming Noise
---
Can anyone identify the noise I just started getting from the rear, passenger-side of my 300SE? It occurs only at low speeds (under 8 mph) and only while the car is running and in gear. It's similiar to the low-pitched whistle you hear if you blow into a bottle (sorry... that's the only way I can describe it). I'd really appreciate any input. Thanks.
BenzWorld Member
Date registered: Aug 2005
Vehicle: 1972 250C, Ducati ST
Location: Norfolk, Virginia
Posts: 250
Mentioned: 0 Post(s)
Quoted: 0 Post(s)
RE: 88 300 SE Rear Humming Noise
---
Does it do it with the car completely stopped? If it does, you can probably rule out any kind of suspension/drivetrain/brake issues.

If it only does it with the car moving, you might have a worn wheel bearing, worn differential, or dragging brake. I've had that identical noise on several cars, and one of those was always the problem. The vibration from the movement of the worn/dragging part would set up a resonance in the trunk cavity, causing a droning/humming/low-pitched whistling sound. At higher speeds, the frequency of the noise would be too high to make the trunk cavity resonate, and the sound would go away.

Try driving through an empty parking garage to use the echoes to amplify the sound, and while you're at it, try driving slowly with the trunk open to see if the noise gets louder/quieter/goes away.

After a drive, hold the back of your hand near the face of each of your rear wheels (remove the hubcap if you have one). If one side is noticeably hotter than the other side, it's probably a dragging brake. If not, it's probably the wheel bearing. Mercedes differentials are pretty sturdy, and you're only hearing the noise from one side, so that's less-likely to be the problem. Even so, if both rear brakes and both rear wheel bearings check out fine, drain your differential oil and look for metal shavings just to be sure.

Scott Gardner
~BANNED~
Date registered: Jan 2005
Vehicle: 1992 W126 300 SE
Location: Head in the clouds
Posts: 11,045
Mentioned: 0 Post(s)
Quoted: 4 Post(s)
RE: 88 300 SE Rear Humming Noise
---


From what you describe,it sounds to me more like your fuel pump is getting noisy.They can go for a long time whilst making a noise,but take it as a warning that a replacement will be required at some point.



BenzWorld Elite
RE: 88 300 SE Rear Humming Noise
---
i have a 88 300se and i had the same problem, thoguht it was my brakes but nothing, after a while my differential broke. Might wanna check your diff.
---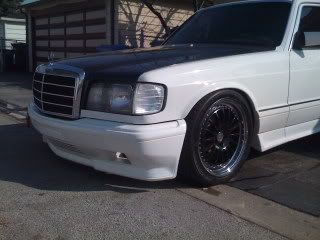 Currently Active Users Viewing This Thread: 1

(0 members and 1 guests)