BenzWorld Junior Member
Date registered: Feb 2010
Posts: 38
Mentioned: 0 Post(s)
Quoted: 1 Post(s)
(Thread Starter)
Run to the Hills - San Diego Febuary 28th
---
RUN TO THE HILLS
FEBRUARY 28, 2010
Deutscher Motorkult car club has teamed up with Exalt Motorsports, and K1 Speed Carlsbad to kick off the 2010 year with a Mountian Cruise from Exalt's brand new facility in El Cajon, to Julian, then to Palomar Mountain, finishing up at K1 Speed Carlsbad for an after-party for a little racing action.
This is open to all european cars, enthusiasts, and people that enjoy a good sunday drive in the mountians with friends and fellow enthusiasts.
BRING: Cameras, still or video, the wife/gf/kids...maybe the mistress, and be ready for an all day affair
ROLL IN TIME IS 7AM AT EXALT MOTORSPORTS IN EL CAJON
910 EL CAJON BLVD, EL CAJON CA 92020
We will be leaving Exalt at 8AM and making a Run to the Hills for the day finishing up at K1 Speed Carlsbad at 4PM
The Flyers will be available at Exalt Motorsports and K1 Speed Carlsbad the week of Jan 25th-29th up to the day of the event, along with various So-Cal GTG's thru the members of Motorkult.
if anyone has questions you can email the organizer directly at
german.motorkult@hotmail.com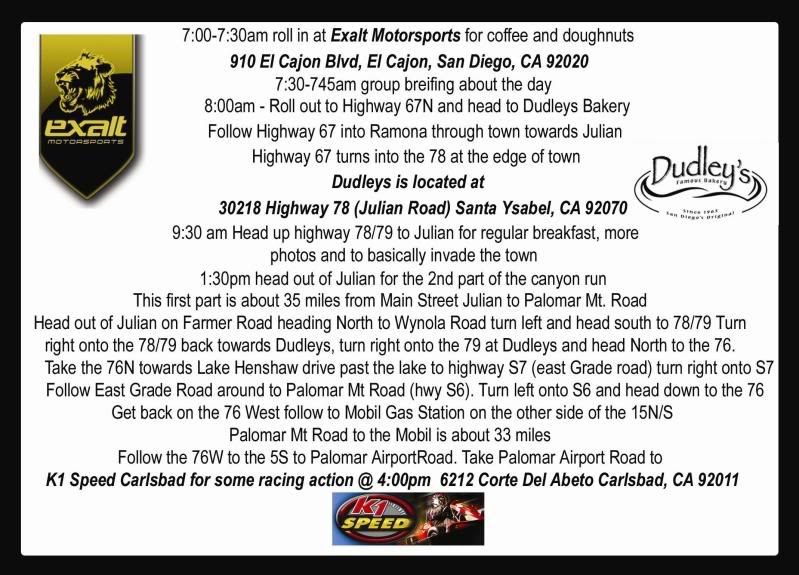 BenzWorld Junior Member
Date registered: Feb 2010
Posts: 38
Mentioned: 0 Post(s)
Quoted: 1 Post(s)
(Thread Starter)
K1 SPEED is offering a bit of a deal for us and the Grand Prix race - which is a 12 lap practice, 14 lap qualifer, and 16 lap main event with the top 3 drivers awarded curtiosy of K1 Speed. Normally this package runs 60 bucks, K1 is going to set us up for 50 to save us some money.
BenzWorld Junior Member
Date registered: Feb 2010
Posts: 38
Mentioned: 0 Post(s)
Quoted: 1 Post(s)
(Thread Starter)
Good chance of the Monster Energy Drink Girls on hand at Exalt Motorsports in the AM before the drive, and there is rumor of the attendance of the so-cal Stig at K1 for the GP....little over a week to go .....Im already tunning and cleaning up my car for this one
BenzWorld Junior Member
Date registered: Feb 2010
Posts: 38
Mentioned: 0 Post(s)
Quoted: 1 Post(s)
(Thread Starter)
SUNDAY SUNDAY SUNDAY.....just a little update...instead of going directly up the 67 into Ramona we are going to revert around up Wildcat Canyon ROad and drive past Barona Casino and Barona Raceway, this is a nice little road to drive up and should avoid some unwanted attention that we may receive going up the 67, this will also put us right into Ramona and the rest of the route we will follow as it shows on the flyer.

Remember this is open to all European Auto Enthusiasts, and there will be some others in the mix joining us....I have this posted on a multiple number of euro-car forums so there should be a good mix of everything - VW, Audi, BMW, Ferrari, Lotus, Porsche ect ect...dont forget K1 Speed Carlsbad and their indoor go-kart racing facility is giving us a deal on our Grand Prix Race and it is encouraged that all participate...Girl friends and Wives, Mistresses included =)

Im looking forward to seeing old and new faces and kicking off the 2010 season the right way with this gathering of multiple euro-car enthusiasts
BenzWorld Junior Member
Date registered: Feb 2010
Posts: 38
Mentioned: 0 Post(s)
Quoted: 1 Post(s)
(Thread Starter)
forecast calls for clear weather on sunday....this is going to be an awesome day
BenzWorld Junior Member
Date registered: Feb 2010
Posts: 38
Mentioned: 0 Post(s)
Quoted: 1 Post(s)
(Thread Starter)
weather is to be free and clear tomorrow and mostly cloudy....this event IS NOT CANCELED ....see everyone in the morning
Currently Active Users Viewing This Thread: 1

(0 members and 1 guests)